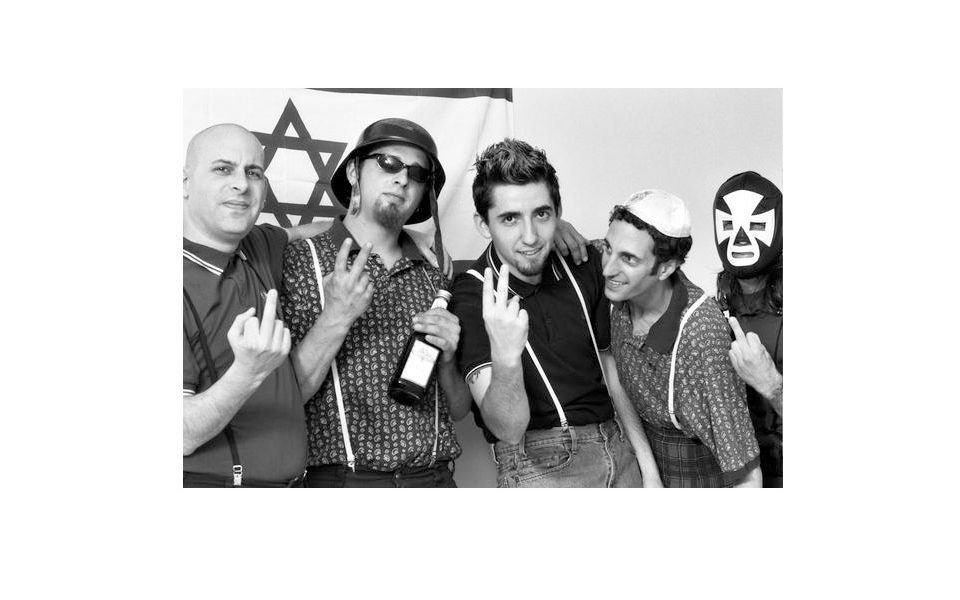 What's a Jewish punk fan to do about all that skinhead punk out there? Some choose to ignore it, while others choose mockery instead. Take the spoof band Jewdriver, whose guiding motivation was to make fun of Skrewdriver, the 1970s British neo-Nazi punk band.
According to a tongue-in-cheek bio written in German on the band's Facebook page, lead singer Ian Stuartstein (his own name a parody of Skrewdriver founder Ian Stuart Donaldson) started the band in 1994 under the name G.I. Jew, before forming Jewdriver in 2006 with drummer Dave Mello from Operation Ivy.
The humor is front and center with songs like "Our Blame is Goyim Glee" (a line-for-line parody of Skrewdriver's "Our Pride is Our Loyalty"), and their album covers are hilarious.
Hanukkah Hangover features a hairy-chested, suspender-wearing punk with a tattoo of the Star of David in flames, and Hail the Jew Dawn shows band members raising their middle fingers in front of a Confederate flag lined with Jewish stars. At their shows they'd famously light a menorah, hand out bagels for fans to throw at them, and pass around bottles of Manischewitz.
Jewdriver may not sound great, but they have their place in the pantheon of Jewish punk bands like the Dictators, Moshiach Oi! and Yidcore. In Oy! Oy! Oy! Gevalt, a history of Jews in punk, Michael Croland says Jewdriver "attacked bigotry in an edgy, playful manner." In times like these, that's something to celebrate.