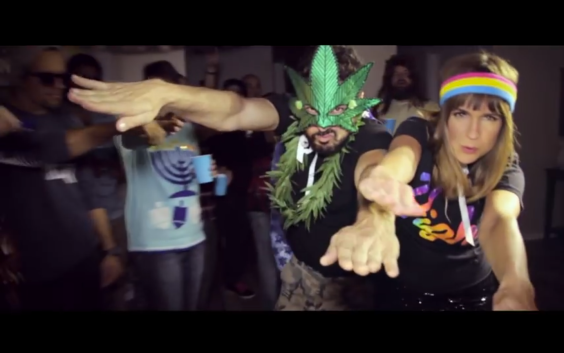 What is the true message of Hanukkah? According to one breakout Jewish rapper, that Jews can lace latkes with cannabis without fear of reprimand from the Christmas marketing machine. And also eat deep-fried carbs without guilt (while Christians are doomed to repeat the detoxing errors of Gwyneth Paltrow? unclear). That's the basic PSA of the unforgettably catchy music video "Pot in the Latkes," by MC Flow, whose approach to titling seems akin to that of a cook at a particularly geopolitically sensitive vegan co-op.
Just who is MC Flow, sage author of a track equal parts celebratory and warning? All we really know about her is that her real name is Abby Schwartz, she's from White Plains, NY, and she's just done for "Hava Nagila" what Gwen Stefani did for "If I Were a Rich Man." (She also collaborated with Jason Mraz to educate the public about the evils of soda.)
In the fierce race for "best Hanukkah song," will "Pot in the Latkes" be able to compete with the Maccabeats' "Latke Recipe"? Are you #teamlatke or #teampotinthelatkes? Some may object to mind-altering substances in their religious observance, but us, we do want to know when there's pot in the latkes. After all, a great miracle has to come from somewhere.