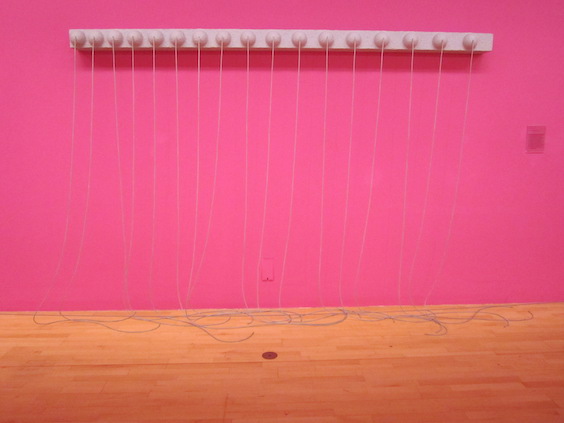 Minimalist art is characterized by a kind of machine-made reductiveness, a movement transgressive in its simplicity. So what would post-minimalism look like? Just check out the breathtaking work of the late Eva Hesse.
Born to observant Jews in Hamburg, on this day, January 11, in 1936, Hesse escaped Nazi Europe via kindertransport, eventually settling with her reunited family in New York. It wasn't long before she graduated from Pratt, emerged as one of the key figures of 1960s post-minimalism, and found her voice in sculpture.
Distinguishing herself from minimalists—famous Jewish artist Sol LeWitt was a dear friend—Hesse worked with unusual, non-minimalist materials like latex and cloth. In fact, this is one of the reasons why Hesse's work is so contentious today.
For one, Hesse's manipulation of material was, well, so minimal, that art historians and critics alike struggle to categorize her works as complete or still in draft. In addition, many of her latex pieces have started to deteriorate, sparking a debate about whether they should be preserved. For her part, Hesse once said she felt guilty for her buyers, knowing the pieces wouldn't last.
Sadly, neither did Hesse, who died in 1970 of a brain tumor at the young age of 34. To quote Hesse herself: "Life doesn't last; art doesn't last." But hers, apparently, does.
(Photo: WikiCommons)