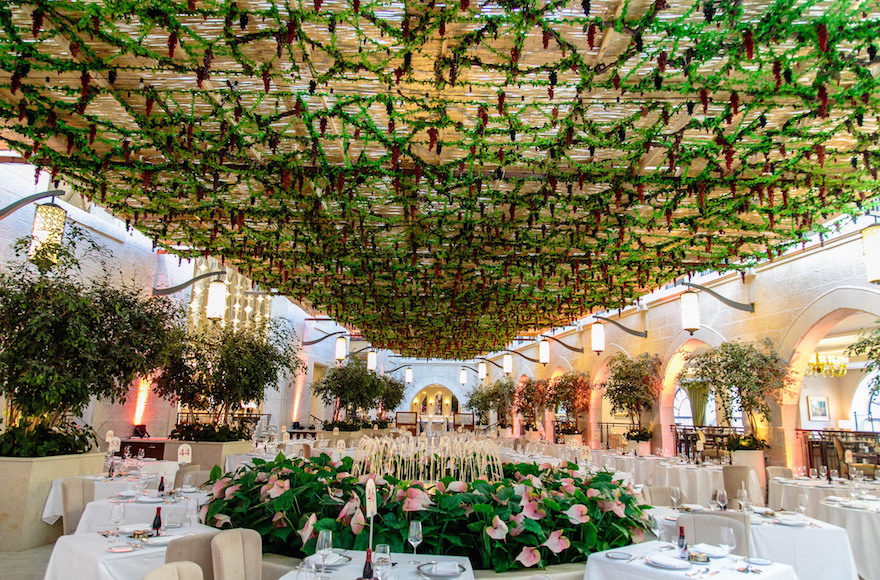 Visitors to Jerusalem during the holiday of Sukkot are often struck by a unique site: overtaking balconies across the city's Jewish neighborhoods, little metal and wooden huts topped with branches and leaves huddle against one another. At night, silhouetted families can be seen eating dinner and passing around the traditional four species and citrons. But not all the city's sukkahs are modest, hardware-store affairs.
Down the road at the Waldorf Astoria Jerusalem, for instance, is a jaw-droppingly gorgeous designer sukkah. Large enough to seat hundreds, design firm Studio Ya Ya's hotel sukkahs come with a pretty hefty price tag for a week-long affair: They can cost up to $75,000. Ya Ya, whose smallest, private sukkahs start at $3000, specialize in creating settings of decadent, natural beauty – while strictly adhering to the letter of Jewish law.
Despite studying the finer points of halachic sukkah regulations, some hotels will hire a rabbi to climb up to the top of the sukkah on a ladder and take exact measurements: Is the schach, the natural ceiling, too dense to see the stars through? How exactly should the decorations be placed so that visitors don't violate the imperative to sit directly beneath the branches?
If you book a flight out to Israel between now and Sunday, October 23, you can check one of these out for yourself.