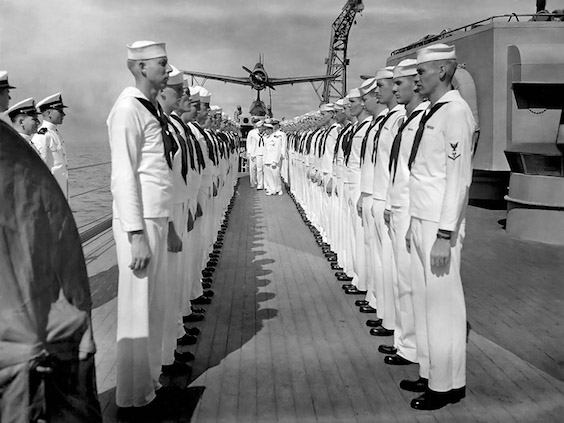 Late last month, America lost a living legend. Fortunately, that legend left his legacy behind—in the form of 1500 photographic prints and negatives, too.
In 1944, a Jewish kid from New Jersey named Herman Schnipper joined the Navy. And he made it known that he liked taking photos.
He was sent to live on a the light cruiser the U.S.S. Astoria and told to get to work.
For the next year, starting with his own 35mm camera, he chronicled both the wartime hostilities and the daily life of his crewmates—and developed the images aboard ship, in his watery darkroom.
From there, he sent the photographs back to the U.S.
Not only did he provide invaluable images of the Pacific front for newspapers —the light cruiser was involved in battles in the Phillippines, Iwo Jima, Okinawa, and others—but he also humanized what was going on aboard.
But other than the website of the nephew of one of Schnipper's fellow crewmen and an occasional photo in a book or museum exhibit, his body of work has not yet been widely seen. In part, it seems, because of the photographer's natural modesty.
But finally, at age 91, nearly three years before his death, he finally told a photographer: "I don't want them to be put in a box and forgotten. I want to show people the war." His wife and daughters are trying to see that he can.
Photos by Herman Schnipper, courtesy of Brent Jones of Mighty90.com