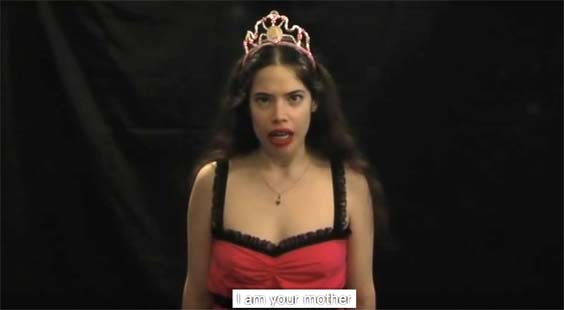 Israeli performance artist Natali Cohen Vaxberg is likely to be indicted for a video she uploaded to YouTube featuring her defecating on an Israeli flag, among others (warning: not for the faint of heart or stomach).
The controversy surrounding the video is raising an outcry about the limits of artistic expression in a country that prides itself on being an open democracy. The video, a vulgar rejection of nationalism, is the easiest of her pieces to prosecute. The others break no laws, unless you count the artistic value of subtlety. Instead, they opt for crass, high-volume provocation.
In perhaps the most shocking, "How Would You Manage Without the Holocaust?," Vaxberg dons a red negligee and matching lipstick, and accuses the Jewish people and the Israeli government for taking advantage of her legacy, of exploiting her pain for political gains. In a style that evokes burlesque nightclubs and vaudeville exaggeration, Vaxberg declaims: "Thanks to me you, you have a state. Thanks to me, and only to me, you have an army. There is no one more responsible for your success than who? Than me! Who deserves applause?"
In another, "Bereaved Love," she begins, "I'm 18 years old and I'm looking for a guy who wants to be a bereaved father. Like every girl in Israel, my biggest dream is to be a bereaved mother, and I'm really hoping to find the one who will have a child with me so we can lose him." In a skit that confronts the paradigm of child sacrifice originally expressed in the binding of Isaac, Vaxberg dares you to watch her slaughter Israel's sacred cows in broad daylight, for all to see, and consider.