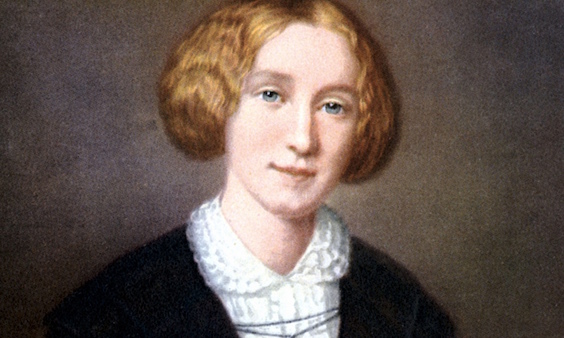 This Israeli Independence Day, we're thinking not of Theodor Herzl but of a less traditionally heralded Zionist: the unconventional British novelist George Eliot, whose controversial proto-Zionist novel Daniel Deronda (1876) argued that Jews needed their own homeland to renew their culture.
The novel's plot features a cultivated gentleman who, after saving a Jewish girl from drowning, discovers his own Jewish heritage. Divided between the high-class world of his upbringing and his new Jewish landscape, Deronda also becomes the confidant and counsellor of Gwendolen, the beautiful and flawed English antiheroine who falls victim to a fatal marriage. Deronda's three-dimensional Jewish characters diverged strikingly from Jewish stereotypes in English literature, in which Jews were typically depicted as impossibly corrupt (think Oliver Twist's Fagin) or totally angelic (i.e. Rebecca from Ivanhoe).
Deronda split readers. American and European Jews loved it, since it showed Jews as multifaceted characters and championed a Jewish state. But critics and the general public, including Eliot's lover (to whom she taught Hebrew), disagreed, maintaining that if only she'd left out the Jews, the book would have been a masterpiece. An American writer named Anna Clay Beecher went so far with that idea that in her 1878 novel, Gwendolen; or, Reclaimed: A Sequel to Daniel Deronda, she killed off the drowning Jewess and made Deronda the beautiful Englishwoman's love interest. At least dissatisfaction went both ways: the long-defunct Jewish literary periodical Ha-Shiloah lamented the book's inclusion of gentiles.
The book still fires creativity. In 2014, Diana Souhami published Gwendolen, a "queer-feminist fairy-tale" retelling, also named for the novel's underappreciated heroine. Was it chutzpah to tamper with a classic? Eliot would probably approve Gwendolen's affirmation of marginalized groups, but not its removal of Deronda's Jewish element.