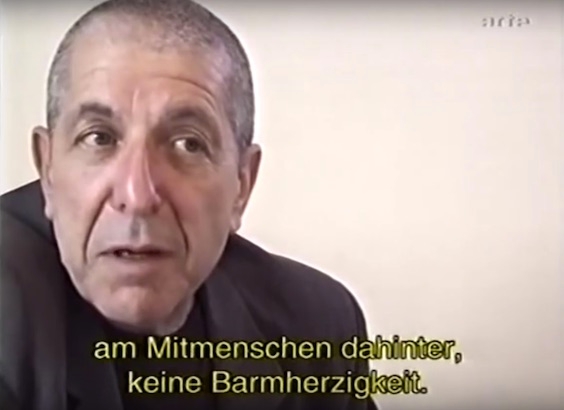 Wearing aviator sunglasses and a monk's robe, Leonard Cohen sits, smoking a cigarette, and recites a poem. "I am too old to learn the names of the new killers," he says, takes a drag. It is spring 1996, the second of Cohen's five years spent as Buddhist monk on the slopes of Mount Baldy east of Los Angeles.
This scene is from the French artist Aremelle Brusq's 1996 documentary on Cohen's time at the Zen center. Cohen, who for much of his life had a loving relationship with Zen Buddhism, moved to Mt. Baldy in 1994 to become the personal assistant to his old friend Roshi, the 90-year-old Zen teacher and overseer of the monastery. (Later allegations revealed a dark side to the meditation master.)
The intimate film, entitled Spring 96, follows Cohen's daily routine, as he wakes up at 2:30am, does walking and sitting meditations, cooks, cleans, and chauffeurs Roshi. Illuminating the penitent, ascetic virtues of Cohen, the film is a revelation for fans, who, in one scene, claims a "great suspicion of charismatic holy men" because "he could do it in his own small way."
Ever the confessor, the monk Cohen reveals much to the camera—and we as fans are richer for it.