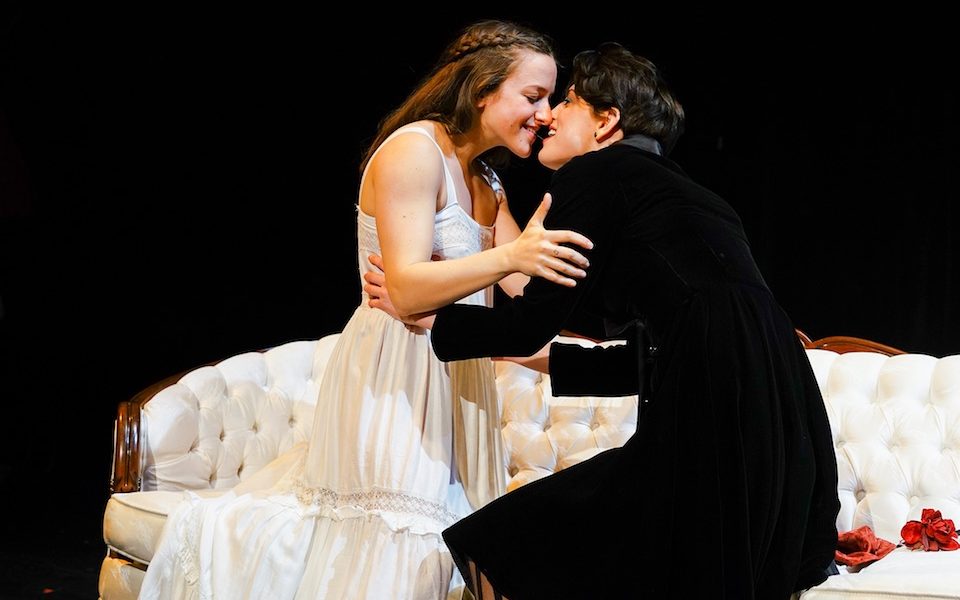 When God of Vengeance first premiered in English on Broadway in 1923, the entire cast was brought to court on charges of indecency for featuring a lesbian kiss—a Broadway first. The prolific Polish-Jewish writer Sholem Asch, who wrote the play, defended his art by insisting that the question wasn't whether the play was moral, but whether it was any good. And good it was. And still is.
God of Vengeance, currently running again in New York in its original Yiddish, might not be as scandalous as it once was, but it is certainly still powerful. The story of Yankl and Soreh, pious Orthodox Jews who run the brothel  downstairs from their apartment, and their beloved, "pure" daughter Rivkele, burns with immediacy.
Rivkele, in whose name Yankl funds a Torah—which he imagines may be useful one day as a dowry—is "corrupted" by Manke, a prostitute. In fact, the two women are in love—and it's this love that ran the public wild in the 1920s.
The play is filled with powerful performances given on a sparse set where, as director Aaron Beall says in the program, "language is the star." True enough: Asch wrote the play with a "symphony of Yiddish dialects." Yiddish inflected by Russian and the American South is a joy to hear.
Inexplicable modern sound effects aside (and despite Asch's 1946 prohibition on further productions), the play nevertheless triumphs in 2017. This is a searing play about complicated Jews—and is anything but indecent.
God of Vengeance is playing at NYC's New Yiddish Rep until March 26.
Photo: Ronald L. Glassman