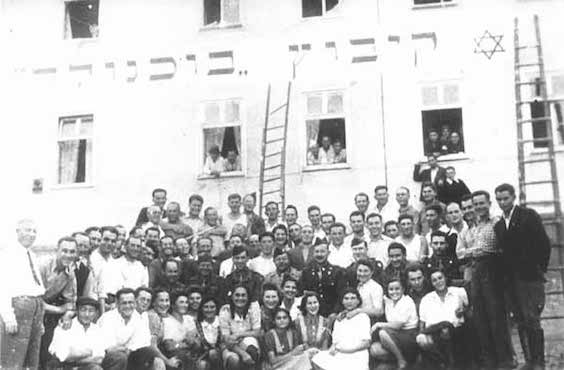 In September of 1945, on the heels of liberation, a group of survivors came together to form a kibbutz in a rather unlikely location: on the estate of Julius Streicher, publisher of the notorious Nazi paper Der Stürmer. To wit: while Streicher was being convicted and sentenced to death for crimes against humanity at Nuremberg, Jews were literally learning how to farm at his house.
Remarkably, Kibbutz Nili, as it was known, was one of 35 kibbutzim that formed in postwar Germany to train Jews for agricultural work in Palestine.
The first of these mini-kibbutzim was Kibbutz Buchenwald, founded in June, 1945, by survivors of none other than the Buchenwald concentration camp—Jews who, while inmates, had dreamed about establishing such a place. With the help of two U.S. Army chaplains—Rabbis Herschel Schacter and Robert Marcus—the survivors were given an abandoned farm, along with food, tools, and eventually immigration certificates.
Kibbutz Buchenwald operated until 1948, when most everyone immigrated to the newly established state of Israel. Many of the survivors went on to found Kibbutz Netzer Sereni, just southeast of Tel Aviv.
Historian Judith Tydor Baumel, in her 1997 book Kibbutz Buchenwald: Survivors and Pioneers, sums up powerfully what these survivors must have been like: "Those idealists appeared to me as the ultimate example of perfection."
Photos: Yad Vashem