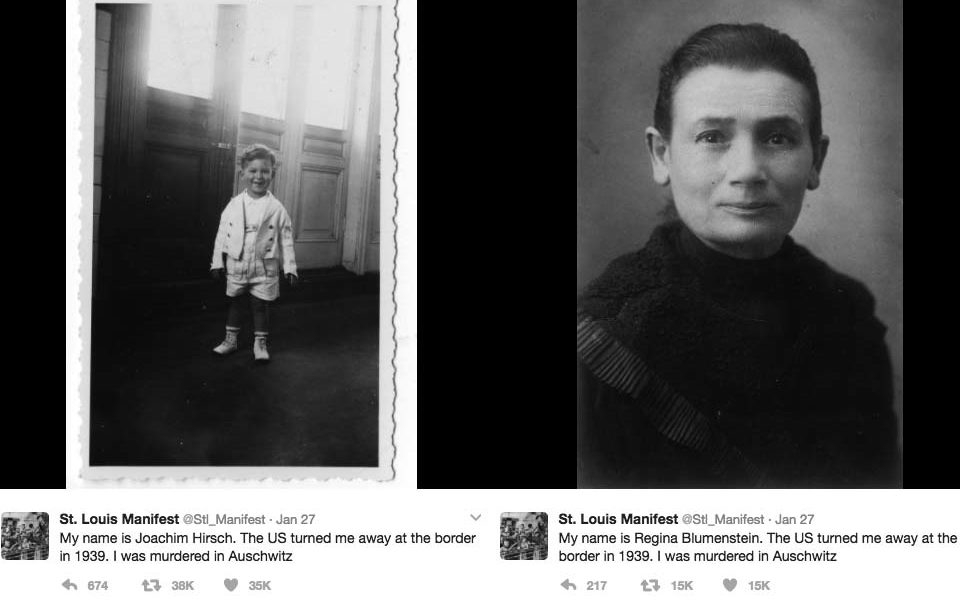 Amanda Wachtel. Georg Cohn. Regina Blumenstein. Flora Wilmersdorfer. Werner Stein. You've probably never heard of these people. Each of them, from the giggling toddler to the elegant lady, were murdered in Auschwitz after their 1939 ship to safety, the St. Louis, was turned away from American ports. But a brilliant project that launched Thursday night, on the eve of Holocaust Memorial Day, has publicized these 254 tragic deaths – and the timing couldn't be more apt.
For twenty-one hours, the Twitter handle @Stl_Manifest tweeted out variations of this heartbreakingly simple sentence: "My name is Eva Dublon. The US turned me away at the border in 1939. I was murdered at Auschwitz."
The two men behind the Twitter feed, which has gained over 69,000 followers since launching Thursday night, used archival records and photographs to raise awareness of past injustice and prevent what ended up happening the very next day: the implementation of Trump's executive order banning Syrian refugees and citizens of seven Muslim-majority countries.
The idea, creators Russel Neiss and Rabbi Charlie Schwartz, told The Atlantic, came to them Thursday night: "When folks say 'never again' or 'we remember,' it is important for us to actually do so."